Arvin USA
---
model 61R13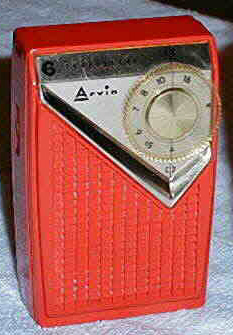 Made in USA in 1959, this is a very nice early radio - AM radio - 6 early oval transistors - high quality built - supply 9V - plays nice.
model 68R38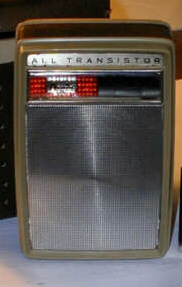 Made in Hong Kong in 1968 - 9 Toshiba Ge transistors and 1 Toshiba Ge diode (looks like a transistor) - AM radio - OTL output stage with 40 ohm speaker - supply 9V P-cell - Nice radio that plays very good.
model 61R48
Made in USA and stamped on December 22 1961. This is really a strangely constructed radio, it has a very uncommon battery compartiment. It plays average, but seems not to be able to match other radios from that era. Construction of the case with leather back is also uncommon. 7 early transistors do the job in this one. Supply 6 V by 4 AA cells.

model 87R59

Early transistor multiband radio that incorporates a marine band in the SW range. This radio is made in Japan (108) in 1967. It employs 12 Hitachi Ge transistors. Serial # 59406. 6 V supply by 4 C cells.
ŠPE1MMK Hans Hilberink 1999