Merkloos
---
Made in China radios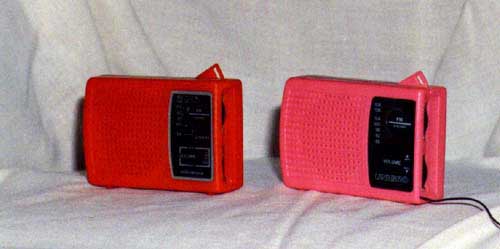 Pocket radios made in China - several different versions in the same shape case - they are sold in different coloured cases - the left one has 4 transistors MW and no IF - the right one has 7 transistors and is a FM-only with wire antenna - another one in a blue case, with brandname YOKO on it, is a standard 6 transistor MW version with IF - they all need 2 'AA' cells for 3V supply. Below the Yoko also a Sanyo AM version of this type of radio, it has no IF as well.
I have also a French version with LW (GO) only, frequency range: 160-280 KHz!!!

Here the Sanyo version.
---
© PE1MMK ® Hans Hilberink Radiomuseum 25-05-1996 / 03-03-2002.