Murphy
---
model B840A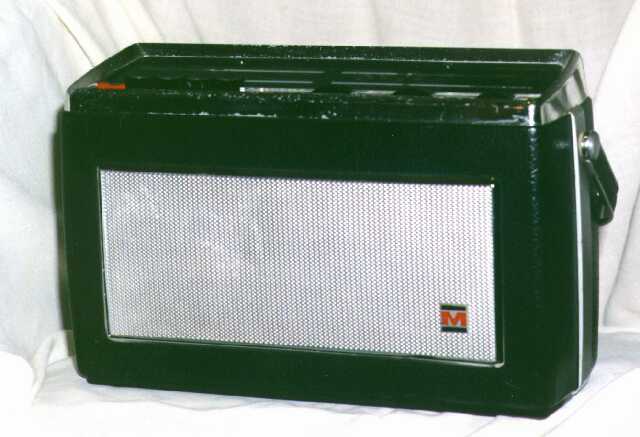 Front view

Of Brittish make - typical Murphy 'double dial' or 'twin dial' on top of the radio, nearly all 'de luxe' Murphy radios, vacuum tube radios included, have this double dial (see elswere on this site: tubed Murphy 808) - 8 Mullard (Philips) transistors - big oval speaker - pcb on metal chassis consisting of 2 sub-pcbs soldered together - dismanteling the radio is easy thanks to beautiful construction, complete chassis is removable by moving two clips - great sound - big square mf trafos, last mf stage trafo is double shielded with built-in detectordiode - full complementary transistors used in push-pull LF output stage, no output trafo: electrolytic condenser - output power: exceeding 1 Watt - space in bottom for two huge 9 V batteries, for 18 V supply and extended playing time -usable as carradio.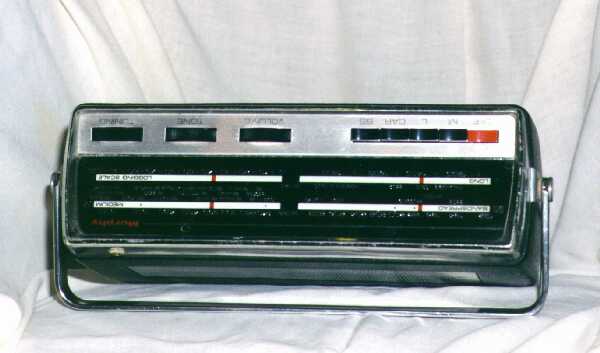 Top view
The famous Murphy Twin Dial - there is also a button for 'Band Spread' BS, this is the in England very popular 200 Meter section of the MW, so 200 M is found twice on this radio.

Bob Thompson (see links on this site) informed me that this radio is a B815, Bob sent me the schematic diagram of the B815. But in fact this radio is a B840A, on the back of the radio there is a very small and hard to read marking saying B840A, the radio is very similar to the B815. In may 1999 the radio broke down again twice, the relatively high supply voltage of 18 V caused 2 parts to break down. With the help of Bobs schematics it was repaired quickly and playing well again.

Do you have more info on this item? Please let me know !!
---
©Hans Hilberink Radiomuseum ®PE1MMK 27-01-1997.