Panasonic /
National Panasonic
---
model ?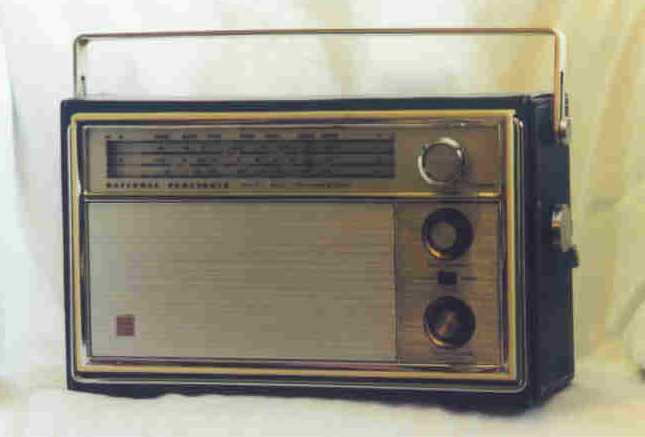 Made in Japan - 8 transistor - average reception and sound - leatherette plastic case - MW / SW1/2/3 - 4 'D' cells for 6V supply - fine tune and tone switch - Not a very nicely built radio, it has poor shielding and a lot of interference is recepted by this radio, so reception of stations is distorted by equipment like tv-sets etc. specially on SW bands.
model GX3
Nice multiband radio from the 1970's.
model T50
Pocket radio made by Panasonic, with the 3 arrow logo - it has 7 working Matsusita transistors but on the cabinet there is stated: 6 transistor radio ???- 4 penlight AA 1,5 V batteries as supply.

model R-12
Very nice round model with small stand.
model R-82
Radio shaped like flashlight - AM radio - 4 penlight AA cells for 6V supply - well playing radio with 6 transistors.

model RF-015

Radio that is only 1 cm (~0,5 ') thick - 6 Ge + 2 Si transistors - AM/FM - it is shaped in the form of a card - works on 2 AAA cells for 3V supply - The same model was used for an AM-only radio: the R-012, it lacks the AM/FM switch on front.
model R-1028
Nice pocket radio, it has 6 transistors, 2 Silicon and 4 Germanium and some resistors are not discrete parts, but they are printed on the pcb.

model R-1019
Nice later pocket radio, it has 6 Silicon transistors.
model R-103
Nice early central dial 6 transistor radio. Many of this type of radio were made and Panasonic had its own too: this one. This radio is a variation on the well known RCA radio. Now you can see of what radio Ross made its copy. Ross radio
model RL-116G
Portable table radio of very nice quality, it is MW only and DC only. 6 transistors. Insect proof.
External antenna connection. 4 UM-1 (D-cells) for 6V supply
model RF-90
9 transistor AM/FM desktop radio. supply by 3 AA penlight batteries. 9 Matsusita Ge transistors.
This little radio gives fine performance. Antenna for FM on the back. The top-lid can be opened and there is a little space to store cigarettes or other things.
---
© PE1MMK ® Hans Hilberink Radiomuseum Anno 1996 / 2002 / 04-03-2003.