Novak
Novak was a Belgium (Europe) factory of radio equipment.
Novak closed the factory in the 1980s.
---
model 2599-069 - W112/W119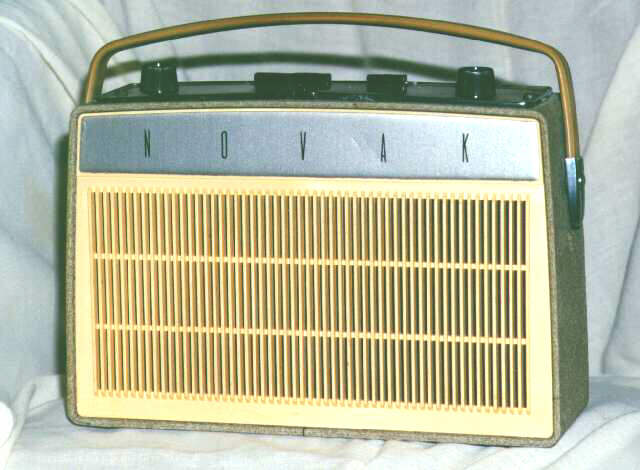 Belgium (Europe) type No.2599-069 (GIRA 251188) approx. 1961- pcb nr. W112 & W119 - OL/OM (long / medium wave) - Gray skai case - white plastic front with silver shield - red scale on top - 7 French SFT transistors - big heavy radio - 6 D cells provide 9 volts supply for extended playing time.
model W121
Radio from Belgium (GIRA 037506) of approx.1961 in gray plastic case - 1 pcb's nr. W121 all parts are on it - power by two 4,5V battery making 9 V supply - has 7 French SFT-type transistors - LW/MW - excellent sound quality - good sensitive and selective reception - it is a light and handy radio - this was one of the most popular and successfull early portable radios of Novak, there must have been thousands sold.
model W107/108
Radio made in Belgium of approx. 1958 in wooden case - 2 pcb's nr. W107 & W108 - powered by one big special 6V battery, this battery type was (and still is) mostly used in farming and garden equipment - it has seven Telefunken first generation, OC series glass transistors, although Novak often used French parts in its radios, in this radio there are mostly German and Dutch parts to be found - bands: MW/LW - it has very good sound quality that somewhat gives the impression that this could be a tubed radio, it does not have the traditional 'transistor' sound of early transistorradios, the LF transformers are a big and heavy couple - good reception by HF stage - huge IF coils in aluminium cases soldered on the pcb - this is a really big heavy radio - the front of the radio was seriously damaged, after repair the radio is now in good condition, doesn't it look nice again?
model MW/LW portable radio
This is a remarkable radio, it is for table top use and portable as well. It has 6 French made SFT transistors - supply is by 2 x 4.5 V flat cells very often used in France and other states in Europe. It was made in the early 1960's for the Belgium and French market. The type # is unknown. It has a high quality oval speaker and all French and Belgium parts inside. It is a green plastic case, the pc-board is well made, the radio is well built and sounds fine. It has MW and LW.
model 261-041 pocket radio
This is a very rare Novak from the the1960s, it has an inside that is made in Japan (901) and gives MW/LW - it has a nice cabinet and inside is a quality pcb with quality parts on it and 6 Germanium transistors of the 2SB30 series, made by TEN and 1 Germanium diode - it requires 1 P cell for 9V supply - This was one of the later transistor radios that came from Novak, some years later the factories in Belgium were closed.



model W154

Belgium radio of approx.1965 (GIRA 192752) in gray chipwood case and plastic front - 1 pcb's nr. W154 all parts are on it - four 4,5V batteries making 18V (+9V/-9V) split power supply - has 10 Mazda SFT transistors - it has a stacked LF output stage - FM/LW/MW - good sound quality - good reception.
ŠPE1MMK Hans Hilberink 1995-2000