Pygmy Paris France
---
model 508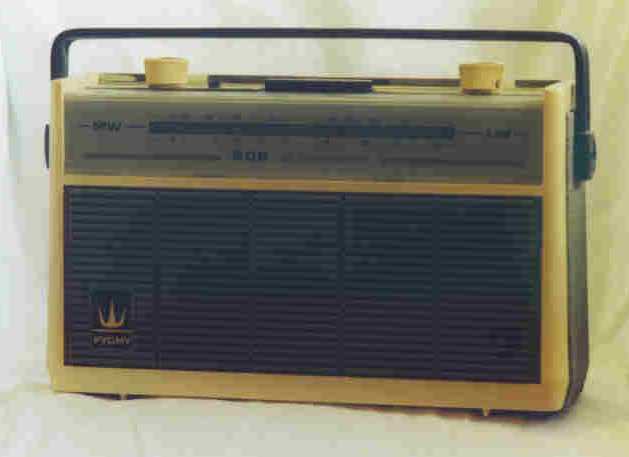 Made in Paris, France 1959 - mix of 6 transistors of TI (USA), SFT (France), and Philips (Holland) brand - the radio was defect and repaired and modified in the early 1990s, the owner built an AC power supply in the cabinet. I repaired the radio and brought it again in its original status.

More about the history of this radio:

Below you see the original memo of one of the prevoius owners of this radio named 'Harry'. The memo was written on 29-08-1994 for Harry by the late Mr. Piet Krijnen from Maastricht Holland (NL) who was a radio serviceman and a radio collector during his lifetime. Below you find a translation in English of the important parts of the letter.
Mr. Krijnen writes the following:
The radio was previously owned by a Mr. Wim Langeveld and he gave the radio, since it did not work, to Harry or Mr. Krijnen in July 1994. The radio did not play and it appeared to be that the ferrit rod of the antenna coils was (broken and) removed, the coils of the rod were still there. So Mr. Krijnen replaced the rod with a similar one. After reconnecting the battery leads, that were detached, the radio worked. But Mr. Krijnen complaines that the radio is insensitive and advises to use an external antenna. He blaimes the old transistors to be the cause of this insensivity. He buit in an AC power supply according to the accompanied schematic, stating in his memo that the cabinet was empty for most part. More about Mr. Piet Krijnen at the website of Gerard Tel, click here.

What I did with the radio:

I concluded that the AC-adaptor was a failure, because it hummed quite strongly. So I removed it completely and restored the complete power supply in its original status. I re-adjusted and calibrated the complete radio and now it appears to be very sensitive and selective. No blaim to the old transistors! Also the LF stage is very powerfull now. The radio is in original shape again and plays very well. Overall it is a real beauty.

---

model Lystron
Seven transistor radio of 1959. Wooden case covered with imitation snake letherette. It has MW/LW. The HF transistors are early Raytheon and the LF transistors are early Thomson France. It has a very rare Local/DX switch. The speaker is a Pygmy model Gold, Varson licence, very good quality. It has two small stacked pcb's and all parts and pcb's are placed on a base board that is mounted to the front panel of the radio. It employs 2x 4.5V flashlight cells to deliver a 9 V supply. Serial # 110421.

model portable AM/FM
The same radio as the GB radio on this site, but this version has FM and some other colours on the dial:
Model 1650
This radio is the same as the OCTON 1650, but the scale is silver.
---
© Hans Hilberink PE1MMK® Radiomuseum 1996-2002.